Unique Photography Workshop at InVision Retraces the Work of Depression Era Photojournalist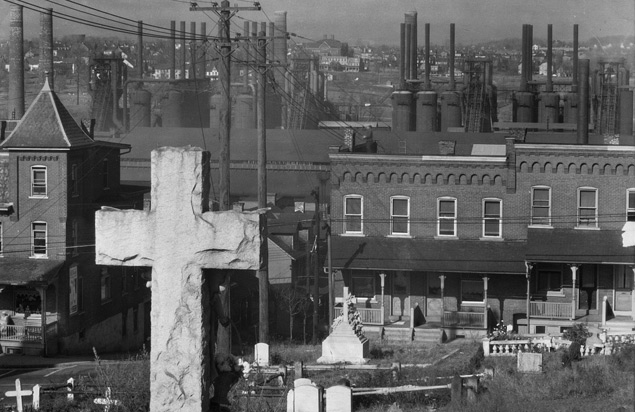 "In the Footsteps of Walker Evans" Photo Walk to Visit Several South Bethlehem Locations on Nov. 6
BETHLEHEM, PA–Photographers with a passion for history are invited to embark on a one-of-a-kind photo excursion this fall that follows in the footsteps photojournalist Walker Evans set while visiting Bethlehem some 80 years ago. Led by Olympus Trailblazer Frank Smith, "In the Footsteps of Walker Evans" retraces the path of the renowned photographer, who in the 1930s spent time photographing the effects the Great Depression had on the steel town. Tickets for this exclusive workshop, set for Nov. 6 at 11 a.m., are $159 and can be purchased at www.invisionphotofestival.org.
Born in 1903, Evans was an American photojournalist best known for his work with the Farm Security Administration. During his career, he was also a staff writer for Time magazine, editor at Fortune magazine and a professor at the Yale University School of Art. In the 1930s, Evans' photography work captured the effects of the Great Depression on American towns and people alike. In November 1935, he visited Bethlehem, where he took a number of images including an iconic shot of South Bethlehem and Bethlehem Steel, titled Bethlehem Graveyard and Steel Mill, that is now included in collections at the Metropolitan Museum of Art and the Museum of Modern Art in New York City.
Beginning at the ArtsQuest Center, the photo excursion will traverse South Bethlehem, visiting several spots where Evans took his photos, as well as other locations on the city's SouthSide. Among these are St. Michael's Cemetery, historic homes on Fourth Street, Lehigh University's Linderman Library and more. Participants will have the opportunity to put their own take on Evan's iconic image looking south from St. Michael's Cemetery to Bethlehem Steel when they visit the cemetery that afternoon. Throughout the walk, photographers will receive personal instruction and photography tips from Smith.
A Lehigh Valley native, Smith is a self-taught photographer who has become a skilled professional over the years. His work has been featured in numerous galleries, publications and photo festivals, and he is a member of the Olympus Visionary Program, a group of award-winning photographers who travel the globe using Olympus cameras to capture the world around them.
The Olympus InVision Photo Festival, which is made possible through a generous contribution by Olympus America Inc., takes place Nov. 4-6 at the Banana Factory arts center, 25 W. Third St., and ArtsQuest Center at SteelStacks, 101 Founders Way, in Bethlehem. Tickets for all InVision workshops are on sale now at www.invisionphotofestival.org and 610-332-3378.
Editor's Note: Above is a photo of Walker Evans' image, Bethlehem Graveyard and Steel Mill, Pennsylvania, 1935, included in the collections at the Metropolitan Museum of Art and the Museum of Modern Art in New York City. Photos by Walker Evans are housed in the Library of Congress. Credit line is "Walker Evans, photographer, Library of Congress, Prints & Photographs Division."