"I'm an artist, I know how to art stuff!": Summer Camp with the 4-9-Year-Olds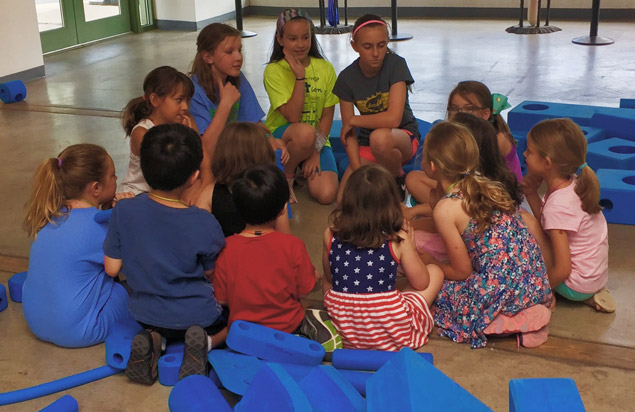 By Sam Sorensen, ArtsQuest Visual Arts Intern
Every summer, the Banana Factory Arts Center comes alive with the creativity and energy of the young artists who attend the ArtsQuest summer art camps. Last year, the overarching theme of the camps was STEAM: science, technology, engineering, arts, and mathematics. Weekly topics included the art of invention, planetary science and physics, and sustainability. Kids even had the opportunity to register for a Transformers or Star Wars themed camp! Many campers registered for several weeks throughout the summer to enjoy a variety of themes and projects.
In Resident Artist Kim Hogan's 3D art classes, campers created their own environments (i.e. a box or container that the student picked what they put in it, like family members, pets, or whatever is important to them). It was made out of as many recycled materials as possible. Then, they took their environment and made it mobile; there were flying cars, flying deer, and unicorns in this classroom! One of the campers, Elinor, proudly declared, "I'm an artist, I know how to art stuff!" And "art stuff" she did: Elinor created a flying unicorn complete with a fluffy, purple blanket. Her favorite part of camp was, of course, "making things." Another camper, Breeahana, made a flying deer and drew herself relaxing on its wing. She also drew her family and pets safely inside. This environment was Breeahana's favorite part of her camp experience!
The Star Wars week yielded cool creations in Teaching Artist Natalie Hartmann's 2D art classes in printing, drawing, and painting. Campers used shrink film to draw tiny Star Wars figures for necklaces or keychains. Sofia made a Chewbacca keychain while other campers made miniature Yodas, Princess Leias, and BB-8s. Hartmann's classes for this week also included projects like creating a planet (complete with aliens) and yarn black holes. Another week focused on sustainability, and the classes largely utilized recycled materials for their projects. Campers painted and assembled egg cartons into clever crocodiles and used old milk jugs to create animal masks. These masks were also a favorite of many campers, especially Fiona who were excited to display their finished creations at home!
Teaching Artist Beth McFadden led two 3D art classes in Fiber Art/Jewelry and Clay as well as Mixed-Media Sculpture. On the first day, campers in her classes decorated a canvas bag to keep all of their art goodies in one place for the week. Then, after constructing two types of bubble wands out of straws and string, Beth's campers ventured outside to put their creations to the test. Many were amazed by how they worked! Beth commented that her favorite part of teaching the summer camps was watching how the personalities of each camper emerged.
Each week of summer camp culminates with an art party that showcases every participant's projects. The party functions as a space for sharing as eager artists guide their families and friends around the room to each piece of art. Campers also see their art in conversation with the pieces that others have created. This event ultimately contributes to a sense of community through art. Ultimately, camp encourages kids to enjoy art by building upon what they made the day before, reworking pieces as their ideas evolve, and talking to other campers about their art.
Summer art camps all encourage the development of important life skills: verbal communication, as they learn art vocabulary and discuss their work with others; problem solving, as they use new skills to build creations and trouble-shoot materials; and, fine motor and gross motor skills, as they write, cut, mold, paint, etc. Each day challenges all ages to improve in both art and other areas of life.
To explore this year's summer art camp options at The Banana Factory, CLICK HERE.