Student Artists' Works to be Showcased at Merchants Bank This Spring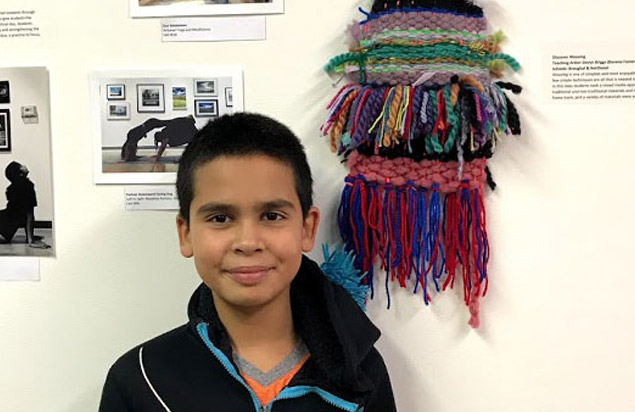 Exhibit, Which Opens April 30, Marks First Time ArtSmart Students' Work Has Been Shown in an Area Business
BETHLEHEM, PA—For the first time ever, ArtsQuest's Banana Factory is partnering with a local business to showcase the works of the student artists in its award-winning ArtSmart program during the new "ArtSmart Juried Student Exhibition." The exhibit, which features two- and three-dimensional works created by Bethlehem Area School District students, will be on display at Merchants Bank, 2 W. Broad St., Bethlehem, from April 30-June 2. Students will also be honored during a special reception at the bank May 16, 5:30-6:30 p.m.
Designed for middle and elementary school students, the ArtSmart after-school enrichment program – now in its 15th year – provides personalized, hands-on instruction in artforms like ceramics, painting, drawing, glassblowing, photography, mosaics, printmaking and fiber arts. Classes, which run for 10 weeks in both spring and fall, are led by professional Teaching Artists, with a focus on complementing what students are learning as part of their school curriculum.
Over the past two years, ArtsQuest has seen a 20-percent growth in its ArtSmart programs as a result of the support of Merchants Bank and other partners. Today, more than 500 students annually take part in the program, with ArtSmart programs now offered at both the Banana Factory and in six area elementary schools.
"One of ArtsQuest's primary areas of focus is providing unique educational experiences for our students, with a concentration on those individuals who often lack the resources to access high-quality art enrichment programs," says ArtsQuest Director of Education & Outreach Lisa Harms. "The student-to-teacher ratio in ArtSmart is kept at 10 to 1 to provide high-quality experiences for the students, as well as individualized instruction from the teachers.
"While ArtSmart has always culminated with an exhibition at the Banana Factory or in the school, thanks to the support of Merchants Bank this will be the first time we've been able to showcase the work of these talented young artists out in the community. Experiences like this encourage creativity and self-expression, build self-esteem and go a long way in developing important social and life skills."
In addition to it being the first time ArtSmart students' works have been showcased in an area business, the "ArtSmart Juried Student Exhibition" marks the first time Merchants has displayed the work of student artists in one of its branches.
"Merchants Bank proudly supports many community programs throughout the Lehigh Valley area. We believe as a community bank, that our support and involvement in community programs like this is vital to the continuous improvement of the Lehigh Valley. The high quality programming that ArtSmart provides to students is critically important to their success in school and life. They provide the foundation that these students and the community need. We are pleased to partner with ArtsQuest and the ArtSmart program and look forward to showcasing the students' art," says Mark P. Jobes, Chief Banking Officer.