ArtsQuest Launches New Emerging Artist Residency at the Banana Factory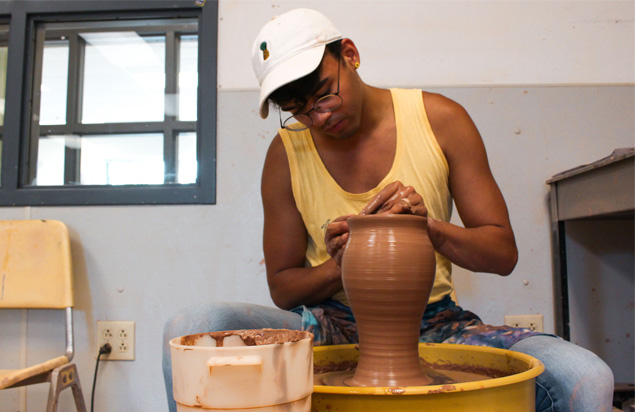 Photo by Jordie Werner
Artists invited to apply for new program, which includes free studio space at arts center
BETHLEHEM, PA–Since 1998, ArtsQuest's Banana Factory Arts Center has provided visual artists with time and space to explore their work in a supportive and thriving open studio environment. This summer, they are expanding the concept to up-and-coming artists with the addition of the Emerging Artist Residency Program.
Made possible through the support of art historian and Allentown resident Dr. Christine Isabelle Oaklander, the program was created to provide promising young artists an opportunity to advance their own work and professional careers through access to a vibrant, community-based art center, with generous workspace, modern facilities and an atmosphere of ongoing critical feedback. Oaklander served on the ArtsQuest Visual Arts Board for seven years and has always had strong support for young artists.
"This is a two-way street, I am rewarded by getting to know young talented artists and feeling like I have made a difference," Oaklander says. "I hope to inspire others to donate and propose their own gifts and programs."
During the residency, artists benefit from opportunities for professional development and collaboration with peers. These individuals actively contribute to the Banana Factory's artistic and educational programming by participating in First Friday, being available for studio visits and tours, and working in their studios during the Art Center's business hours. There are also opportunities to teach programs at area schools and collaborate with the art center's other resident artists.
"We are so thankful for Christine's support in creating this new opportunity for rising artists in the Lehigh Valley," Sr. Director of Visual Arts Stacie Brennan says. "This program will provide a unique learning experience with free use of studio space for emerging artists in the beginning of their careers to continue to develop their artwork and build visibility within the community."
Banana Factory's first emerging artist is Derek Reynoso, who is participating in the residency through September. He learned of the program through Oaklander, who has served as his mentor for the past two years. Reynoso is currently studying for a Bachelor of Fine Arts in Ceramics at West Virginia University. He grew up in the Lehigh Valley and has always admired the artists in the Banana Factory. His artwork is strongly influenced by gender roles and how they impact people in different environments.
"I want to help the community around me through not just making work, but helping other people make work," says Reynoso. "Giving back to the places that I have come from is very important, and ArtsQuest has really helped me figure that out."
ArtsQuest residencies are typically 3 to 6 months long. Emerging artists who have a strong community mindset are encouraged to apply for the program by completing the application on the Banana Factory Arts Center website or contacting visualarts@artsquest.org.
For more information visit www.bananafactory.org.