The Banana Factory
This complex assembled from six buildings, including a former banana distribution warehouse, is the home to ArtsQuest's visual arts education programs. It includes 30 studio artists, three galleries and multiple classrooms. It's also home to Pennsylvania Youth Theatre (which offers dance, drama and voice education to students ages 6 to 18).
Banana Factory resident artists make up the heart and soul of our programming. We have 30 studios which are all rent subsidized enabling artists to afford a special space to create their work. In addition to offering lower rents, the studio artists have an annual group show, an annual featured artist wall and 11 First Friday events where visitors from the community and beyond go to see the studios, meet the artists and enjoy an exciting and free evening. Many of our resident artists teach courses as well and have first pick of teaching art classes at the Banana Factory. Diversity is the name of the game here. Artists in their early twenties can talk to artists in their 70's and there are all mediums covered from painting, sculpture, photography, and pottery.
Banko Family Community Room & Gallery
A beautiful art gallery and multi-purpose venue that features incredible artwork, host to five regional and national exhibitions a year, and numerous special events.
Crayola Gallery
A multi-purpose art gallery and creative space, the Crayola Gallery walls are decorated in beautiful artwork, an angled skylight to let in the sunshine, and an outside terrace. This unique venue showcases five regional and national exhibitions a year.
Hallway to the Arts
A creative exhibition space bridging the Banko and Crayola Galleries that highlights five exhibitions a year and features the InVision College Photography Competition once a year in conjunction with Olympus InVision Photo Festival and Lehigh Valley Photography month.
The Olympus Digital Imaging Center
The Olympus Digital Imaging Center opened its doors at the Banana Factory in September 2005. It is the only free standing permanent digital classroom sponsored by Olympus America. There are 15 student computer stations as well a special teacher station. State of the art software packages and large format printers are available to students. This is a very popular spot during our First Friday events. Classes for all ages and levels take place in the classroom including special after school at-risk youth programming.
Pennsylvania Youth Theatre
A non-profit performing arts organization housed in the Banana Factory was founded under the principles of educating, enriching, and entertaining youth and their families through live theatre. Acting, Dancing and Singing are the three core areas PYT focuses on, with classes in all three. PYT students audition to be cast in our professionally produced musicals and plays throughout the year, as well as perform in a variety of venues, festivals, and showcases.

R. K. Laros Ceramics Classroom is a dedicated space for wheel throwing and hand-building classes and workshops. There are classes scheduled for all ages and levels.

R. K. Laros Photography Darkroom is a traditional digital darkroom center dedicated to teaching photography and digital imaging. The darkroom allows students the opportunity to get to know the magic of film-based photography and walks students through the entire photographic process, from shooting pictures to developing film to watching photographs appear in the developer tray.
Public Art at the Banana Factory
Mr. Imagination Bus Shelter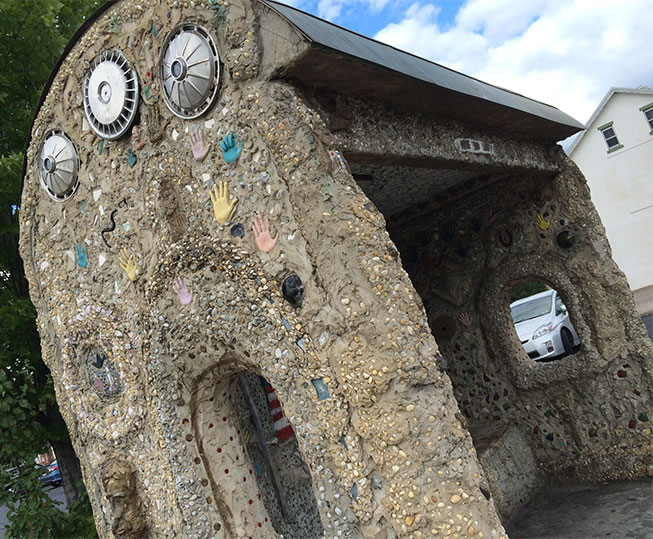 World renowned outsider artist Mr. Imagination made his home in Bethlehem, PA for a few years in the early 2000's. He was the first Banana Factory Artist in Residence. The bus shelter was created along with help from youth in the Pennsylvania CareerLink Program as a job skill training session. Young artists assisted Mr. I in the design the shelter and get approval from Northampton Transportation Authority. They received hourly pay while learning to take initiative and work as a team to complete the shelter from start to finish. Most of these youth were from the Southside area and see the shelter as a source of pride and a testament to the beloved Mr. Imagination who passed away in 2012.
A Joyful Experience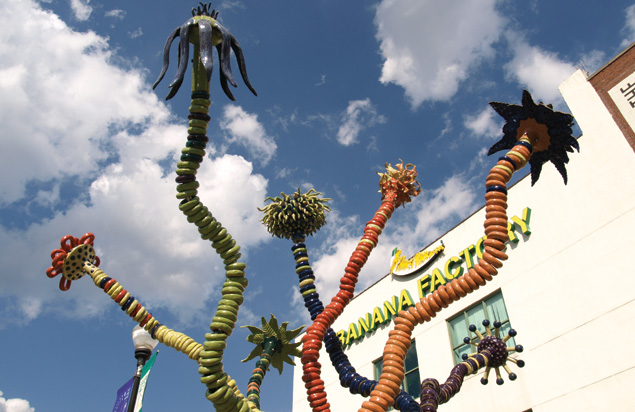 Susan Small made this one of a kind sculpture A Joyful Experience in clay and it has stood the test of time and weather! Amazing in itself, with a hurricane under its belt, the whimsical piece continues to amaze and delight visitors to the Banana Factory.
Homage to Humanity
Lehigh County sculptor Karel Mikolas was selected as the winner of Banana Factory's first Outdoor Sculpture Competition. Mikolas created "Homage to Humanity," a composition consisting of three larger-than-life concrete figures. The sculpture competition was open to any artist 18 years or older residing within 100 miles of Bethlehem. Mikolas was selected from three finalists who went before a jury.
Banana Works
The Banana Factory was a proud partner for more than 13 years in the Banana Works Projects which flourished around the entire Lehigh Valley from 1998-2011. Professional artists who specialized in public art and teaching young adults worked with 9 participants in a job skills training program run by Pennsylvania CareerLink. Various community funders supported the program including Just Born, The Bethlehem Housing Authority and St Luke's Hospital. Over the course of 6 weeks participants learned how to create sketches, present the work to the client and make alterations from that feedback. They then learned to paint or work with mosaics to create a stunning outdoor work of art from start to finish. Skills they learn is working with the team, accepting authority, arrive on time and positive attitude. Most of the participants were from the area in which the work was created, which created a continued sense of civic pride for everyone.